Quick News
Did you know you can not only shop online, but also in person at our studio space? Stop in sometime and see a selection of ready made products or order one with your own leather selected from our inventory!
Not local? No problem! We are in stores all over the United States and even up in Canada! Check out our Stockists page to find a store near you.
Sign up for our newsletter to learn what local events you can find us at! We have a few great markets happening this year where you can peruse our selection in person and meet the maker!
Follow us on Instagram to see sneak peeks of new designs and behind the scenes real life action in the studio and beyond.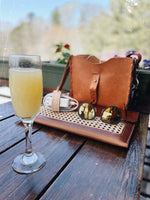 About Us
Ethical and slow. That's how we think fashion should be. Since 2011 we have thoughtfully designed and created leather bags and accessories for the conscious individual. Fashion should be made well with a timeless nature that will last a lifetime. Celebrate life's milestones with Milestone Bag Co.